Who runs the world?  CATS!  We hate to say it, but here at CrazyDogTshirts.com we think the Queen B is wrong….girls don't run the world, cats do!  Inspired by what we like to call the "Kitty Klothes Kraze" (not affiliated with the Kardashian Klothes Kollection) of the internet, we decided to jump on the bandwagon and dress more than people.  As the new website name above suggests, we're transferring some of our most popular designs to cat shirts…with sizes for cats weighing up to 150 pounds.  No two cats are like, and neither are our cat tees!  Here are some of the photos that planted the seed for an amazing new venture for us: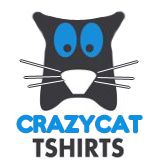 Photo Creds: fashionablygeek.com, curiousanimals.net, glittercats.com, weheartit.com
We realize not all of our designs are 'cat friendly' so we're making some changes across the board to make the tees better for our feline friends, no fashion Faux Paws here!  For instance, you'll find our popular "I Love Cats, Just Can't Eat a Whole One" tee will be updated to read "I Love Humans, Just Can't Claw the Face off a Whole One", which makes more sense because most cats are assholes (Agree? Disagree?  Join the conversation on Cats on our Facebook page!).  Other design changes include:
*This will no longer be a flip, as it is a shirt meant for wear on cats, but instead acts as a method of confusion for humans that will temporarily confuse them while the cat jumps in to a surprise face clawing attack.  To paint the picture for you, we picture this tee being used in this manner:
[Enter human]
[Human walks up to cat, starts to read shirt.]
"Ask Me About my Cat?  You are my cat!  Mister Fuzzles, what do you mean Ask Me About M….Aghhhh!!!! MISTER FUZZLES GET OFF MY FACE!"
As usual, we're more than just t-shirts!  We couldn't forget the most exciting item we're working on for our collection, Purroveralls!  Yes, they're exactly what you think they are….Overalls for Cats!  Inspired by the lazy feral cats on local farms, the Purroveralls are a great wardrobe addition for that cat who needs to be put to work!  Get them out of the barn and in to the fields…the cows need herdin', and they aren't going to milk themselves!  Cat Model Admiral Snugglebumkins (below) shows you the new Purroverall…isn't it just divine?
We hope you'll appreciate all the hard work we're putting in to our new Kitty Klothing adventure!  Moving in to 2014 and beyond we hope to open up the animal clothing space to Hamsters, Ferrets, Llamas, Parakeets, and more!  Until then, we look forward to putting out more purrrrfect clothing for the ones who really run the world….cats!